Will renovating your basement add value to your home?
What will you use that space for? A playroom for the kids, a man cave, or an arts and crafts room? It is a good space to have extra storage. A finished basement can be fun and useful without a proper egress. However, without an egress, your basement cannot be used as a legal guest room or bedroom.
If your basement is currently finished, no need to read any further! Otherwise, you can potentially create a living space if you have an existing ceiling height of over 6'-9". No more dark, dingy, gray subterranean space that normally holds your water heater and unpacked boxes.
In order to finish a basement correctly, it is important to know that one of the issues basements have is moisture. You cannot just simply slap sheetrock on the walls and call it a day. To make the space habitable, (and legal), there are a few guidelines you will need to follow.
Guidelines for a Habitable Basement
New walls need to be framed 1"-3" away from your cement foundation walls. This ensures that moisture does not collect and create mold. It is also important to use mold and water-resistant materials to help with this issue. The proper insulation is necessary to allow the space to retain a comfortable temperature so it will not become damp and chilly.
The floor of your basement should also be finished with a water-resistant material such as vinyl, laminate, or tile. Sometimes people install indoor/outdoor carpeting that can be lifted and dried in case of moisture, such as carpet tiles or area rugs.
Install correct lighting and electrical as per code. You should have an outlet every 8'-11' along the perimeter walls of your space. Our suggestion is to have a light fixture, (at minimum), every 6'-8' to allow for a well-lit area.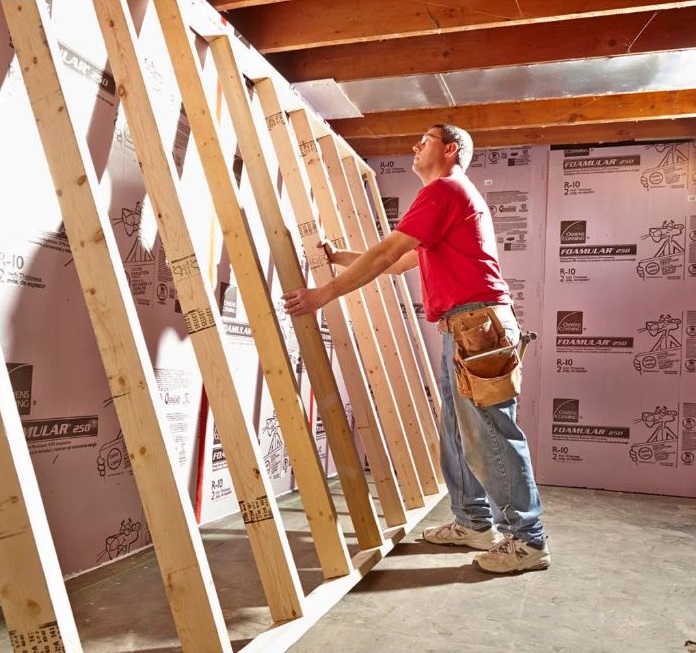 Things to Consider
A basement, unless it's a walk-out, will always be a basement. By the time you calculate all the costs to frame walls, install outlets, lights, insulation, and flooring…maybe investigating a Family Room addition might be a better direction. Depending upon the size, an above ground addition may price out as a similar project.
Call New Dimensions for some great advice on which direction to take!