When the weather is nice, its easy to expand the square footage of your home by moving (outdoor). This could be a simple patio platform made of bluestone, cement, teak squares, or an elevated deck, (if the back of your house is above grade).
If you're thinking about adding an outdoor space to the house, its good to think about exactly how you want to use the space. Do you want it to be a space that you use just when the weather is nice? Or would you like a space you can have when it rains? What about a room to use year-round like a sunroom or screened porch?
Size of the Space
The first thing to think about is the size of the space, and the area where it will be located. Most patios and decks are situated behind the Kitchen and Dining/Breakfast area. Would you like to have a barbecue with easy access from the Kitchen? How many people need to fit in this space? If you want space for 4-8 people to sit comfortably around the dinner table, then you should probably consider an 8'x10' or 8'x12' Addition.
Patios, Decks & Materials
For patios, the most popular material is Bluestone Slate. There are many other materials available if you go to your home garden center and masonry supply house. For decks, any area more than 18" above the ground requires railings and usually professional masonry footings. The materials people like to use on decks these days are all about maintenance. You can use pressure treated wood, red wood or cedar…but there is upkeep. Use oil, lacquer, or polyurethane to treat for weather. This will help to keep the wood materials from drying out and becoming "splintery". Or, you can use composite material such as Azek or Trex. These are man-made materials that do not weather or splinter. These materials tend to mimic painted or stained wood, and only require an occasional power washing should the materials get dusty or mossy.
Screened in Porch
If you would like space that is cut off from the elements, you can do a screened in porch. This is a deck that has walls, a roof, and screened window areas. It keeps the bugs outs but allows the breeze and sunshine in. A screened porch is the perfect spot from late March to early October. The downside to this is the space gets cold in the wintertime. Consider adding heat to this area…or maybe a space heater will do? Another option is a sunroom or three season room. This is basically a framed Addition on your home that has lots of windows and screen panels, but has fully framed walls and a roof.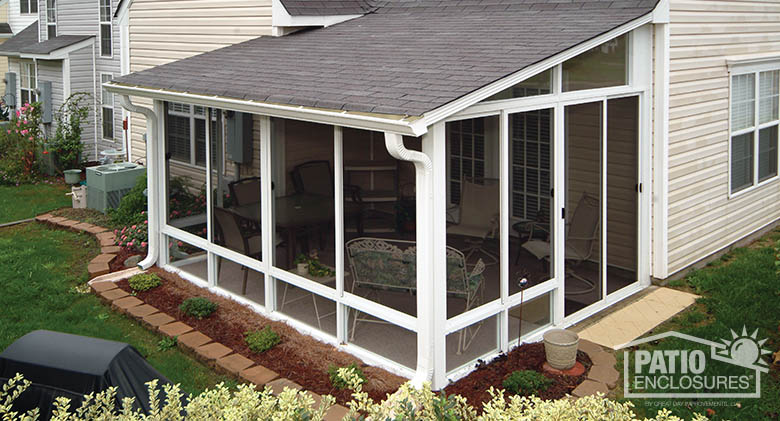 Sunrooms & Three Season Rooms
These walls may or may not be insulated. This allows you to have a picnic or barbecue almost all year round! In todays world, it may make more sense to just go 100% and build a Family Room Addition on the house. This way for a little more money, you can use the space all year round with no issues. If any of these spaces pique your interest, you can always call New Dimensions. We would love to help you create an outdoor space for your family to enjoy!