As we said before, kitchens are one of the most important rooms in the house. As spring rolls around, besides spring cleaning…kitchen renovations seem to be the hot topic. What are the currents trends in kitchens?
To Start
Whats the current trend…multi cookers. If you can get it to slow cook, pressure cook, and air fry all at the same time, you're in sync with popular culture. But the truth is trends haven't changed much. People still want six burners on their stovetop, whether it's gas or electric. It depends on what you have in the house. We find that people prefer a flame over a flat heated surface, since the direct flame seems to heat things up more quickly.
** Induction does boil water the fastest **
Ovens
Most people are ok with one oven, except of course for Holiday's and large meals. A second oven is perfect for potatoes and sides dishes while the roast is cooking. You can also purchase the Breville Smart Toaster Oven. It can be placed on the countertop in an inconspicuous corner. It is large enough to cook a bird…no, not big bird…but a whole chicken!
Refrigeration
A 36" wide French door refrigerator is still the most popular size and style. The full width shelving is great for sheet cakes and lots of Tupperware, but everyone still complains about the lack of freezer storage. You have a choice to change the size of your appliance and expand in width, or just add a secondary freezer in the garage or basement.
Dishwashers
It's a beautiful thing…especially for the people who have been living in apartments and remember piles and piles of dishes. Now you can pile them in the dishwasher. Some people add a second dishwasher if space and budget allow. This comes in handy when you have delicate items for wine and china, and you want to separate those dishes. It's fantastic for large gatherings…and that huge pile of plates and wine glasses.
Countertops
Islands are still the most efficient layout for a kitchen. It's preferred to have a separate workspace, large and undivided so you can rollout a pie crust or chop all your ingredients before you do a stir fry.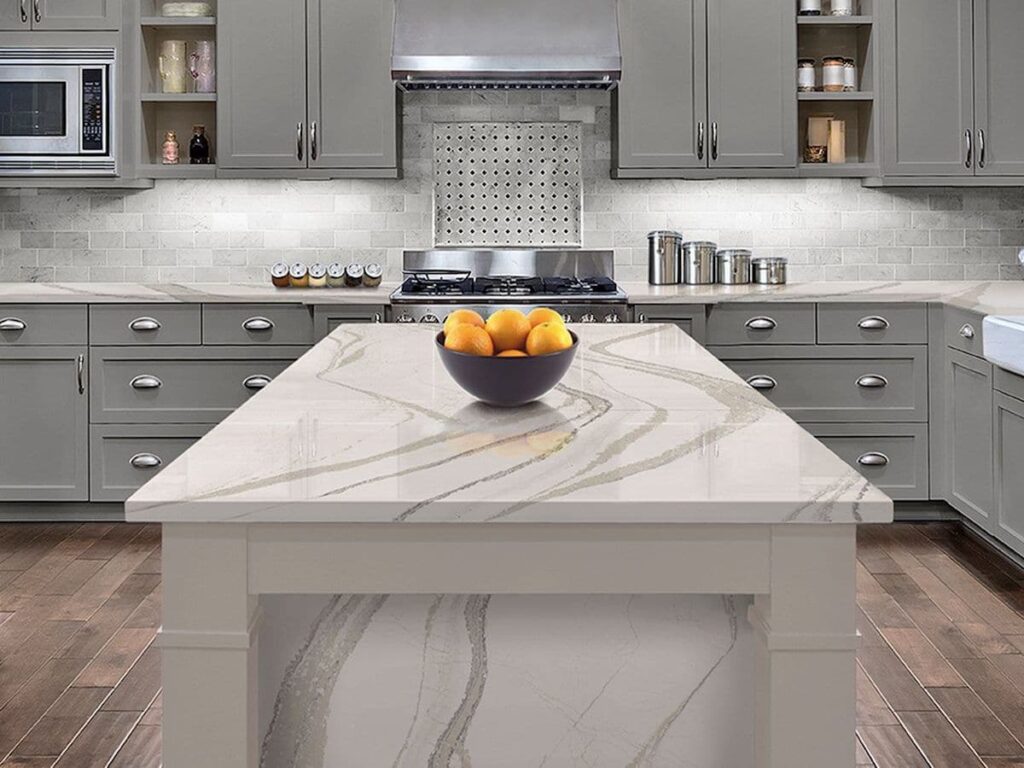 Sinks
Everyone still wants one large single sink, whether it's a stainless steel undermount, or a cast iron farm front apron sink. It depends on what you like… (farm sinks are cool!)
Faucets
More and more people like a "touch" faucet. This means you don't pull the handle…you just touch the faucet. Is it necessary? Most of us have at least one hand free. You can now shout to Alexa from your smart phone as she turns the faucet on and off for you. There are many options…pick the one that makes the most sense for you.
Materials
The preference is still low maintenance. Most people are choosing Quartz countertops because the non-porous surface does not stain. Do not confuse man-made Quartz with Quartzite, a porous Marble and Granite slab. People are also selecting Porcelain for backsplashes. The surface of Porcelain tile is non-porous as well, and you can install the tile with the least amount of grout lines possible.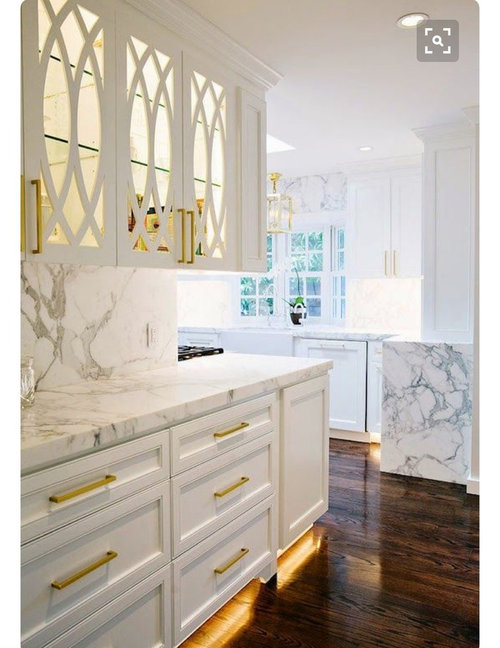 Color Trends
Yesterday's dark cherry wood became this mornings gun metal grey, which became this moments navy blue…and tonight's midnight black. All these materials are of course mixed in with white.
Knobs, Handles, Hardware
Black is back, copper and gold are cool, (especially on navy blue), and stainless steel and brushed nickel are still a standard. Most people go for the cheaper hardware because not everyone has the budget to spend over $50 a knob. The most important thing to remember is that you really want hardware to be something comfortable to the touch, with lots of space around the fingers. There is nothing worse than scratching the hardware with your ring, or getting your finger caught when you pull the drawer or door open too quickly. Remember: function is important.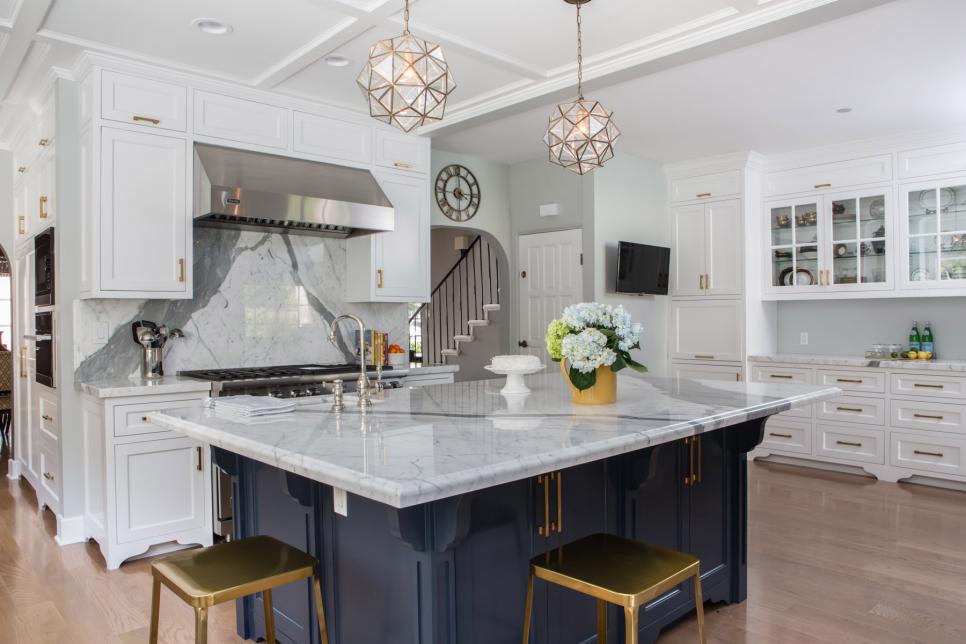 Lighting
The most popular is still recessed lighting for general tasks. It doesn't bring attention to itself, and with the new LED units you can light your space brightly for one million hours without ever having to change a bulb! As far as pendants and decorative lighting goes, the industrial look of last week is now becoming more refined. Crystal is coming back in a big way, starbursts…the asteroid look. Nothing is more stunning then a large snowflake made of crystal and shiny metal floating over your island! More and more people are adding under cabinet lighting with a dimmer switch…it just makes the space glow. Of course all of this can be tied to your mobile devices. Now when you run out of the house to pick up Billy from practice, you can still shut the switches off without returning home and making you late.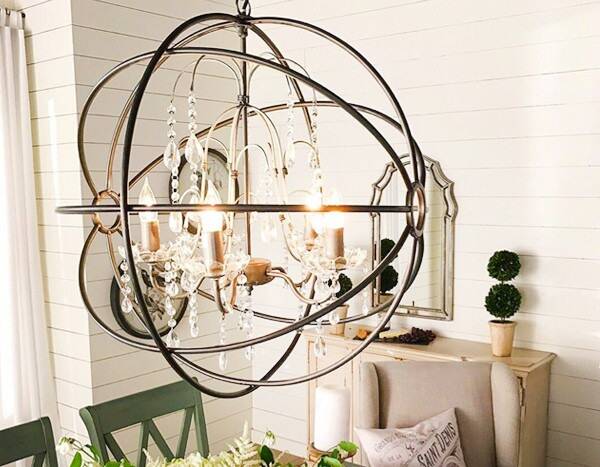 The Smartest Trend
Renovate your kitchen once! That means taking the time to plan, design, and research. There is nothing worse than spending lots of time and money on your renovation, only to realize afterwards that you left something very important out, or placed a major appliance in the wrong location. These things can not only cost you money to fix, but also a lot of time and aggravation.
Contact New Dimensions Remodeling so we can help you never make those mistakes!